Message from President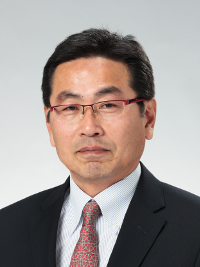 CORETEC is expanding its operations as a manufacturer with three business pillars: "Factory Automation (FA) Systems," "Ecology," and "Original Products."
In the FA system field, we design and manufacture a variety of automation systems, matching customers' production plant conditions through innovative proposals and quick action, while making the most of assembly, processing, welding, inspection, transport, robot, and other core technologies. These systems are a favorite of customers not only in Japan but around the world.
In the Ecology field, we design, manufacture, and construct all kinds of energy-related equipment for solar power generation, wind power generation, thermal storage, heating, and such, and also engages in the development of weed-controlling solar cell sheets, hybrid street lights, and other new products.
In Original Product field, we are making renewed efforts in the area of new business (NB). We are promoting unique products in new fields, and the content is diverse, ranging from AC servo nutrunners, AC servo presses, and other fastening tools, to line cameras, 3D weld bead inspection systems, and other visual inspection systems, as well as digital signage and IT business products.
We will continue to create new value and develop new products for all stakeholders by utilizing our independent technical abilities and capacity to think and act, as we strive to become the world's best manufacturer.
We look forward to even greater support and feedback from each of you in the months and years ahead. Thank you.
Shigeru Fujii
President and Representative Director