ISO/CSR Engagements
Our quality policy and environmental policy are introduced here.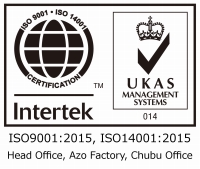 QMS (Quality Management System)
 Coretec has traditionally manufactured products considering "Customer Satisfaction" as the number one priority issue. With the kickoff of activities in obtaining ISO 9001 certification on August 2, 1999, we returned to our core values while launching activities setting "Customer Creed," "QCD" and "Technology" in our quality policy.
 The ISO promotion team, forming the nucleus and conducting initial meetings, built our "quality system" by establishing a task force due to standard requirements and performing reviews. Coretec received ISO 9001 certification on October 27, 2000 and is currently conducting activities with the Administration Division as the ISO Secretariat under our quality management representative.
 Coretec has continued efforts with a view toward further continuous improvements in conducting business by considering "Customer Satisfaction" as the number one priority.
Quality Policy
Coretec continuously works toward the establishment, maintenance and improvement of its Quality Management System through the dedicated participation of all employees, in order to achieve customer satisfaction for our products and services.
"Customer Creed"
We will supply products that satisfy customer needs.
"QCD (Quality, Cost and Delivery)"
We will always recognize that QCD is the origin of our manufacturing.
"Technology"
Each and every employee will improve his or her skills and contribute to society through our products.


EMS (Environmental Management System)
 Coretec kicked off its commitment to ISO 14001 in January 2001. Organizing the promotion team at the same time as the quality system construction time, we started initial environmental research and proceeded with the construction of the "Environmental Management System (EMS)."
 Coretec smoothly completed certification/registration on November 28 and 29 after 11 months of activities and received ISO 14001 certification on December 21, 2001.
 Currently, when environmental load reductions are being demanded across the globe, Coretec conducts activities from day to day while constantly pursuing what issues to tackle as a company.
Environmental Policy
– Basic Policy –
Coretec Inc. will continue to improve the quality of its environmental protection activities, by accepting its commitment to environmental protection as one of the most important challenges and promoting the protection of the global environment, nature's resources and the prevention of environmental pollution in business activities through industrial labor-saving machinery and sales of energy-saving related equipment.
– Action Guidelines –
1. All employees, who understand environmental policy as well as environmental objectives and targets, will work toward environmental protection.
2. An environmental management system will be established and reviewed on a regular basis, and all employees will strive for its continuous improvement.
3. We will comply with environment-related laws and regulations, agreements, etc.
4. We will work toward reduction and recycling of waste produced as a result of business activities.
5. We will promote resource savings and energy savings.
6. We will work toward the prevention of pollution.
7. We will work toward the development of products of environmental load reductions.
8. We will contribute to the community through environmental protection activities.
9. We will make this environmental policy known to all employees to conduct education/training and publicity activities.