AC Servo Assembly Tools
Introducing Nutrunners and Press equipment, indispensable components of fastening processes on production lines.
Utilizing technical expertise and experience accumulated over many years, CORETEC offers proposals that include the best, most suitable equipment and system configurations.
In addition to being compact, these tools offer high-precision, high-performance appeal.
These tools have a long, extensive record of delivery in a variety of fields.
Using tools that are compact and controllers that support a variety of controls, CORETEC provides a great sense of security and satisfaction in production efficiency and quality improvement on the assembly and manufacturing line.
Product Lineup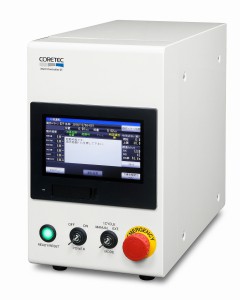 【New】

Multi Controller P for Servo Press

All-in-One structure controller for completely unrestricted operation of AC Servo Press.
Built-in PLC and CPS/BS controller integrated!
Works with just a cable connection to Servo Press tool !
Shortened lead time, Low cost, Light weight and Compact !
Easy connection with peripheral devices or equipment !
AC Servo Press Applied Products
NEWS
Apr-02-'18
Notice for Product Discontinuation of BS Model Servo Press
---
Feb-26-'16
A compact low-thrust 2kN model AC Servo Press "MS02-100B" has been released!
---
Nov. 2011
We acquired a patent for the AC Servo Press.
---
Oct. 2011
IPS Nutrunner Controller is now a service part. Due to the earthquake disaster, it has become impossible to obtain key parts; therefore, production will be suspended. An introduction to the CPS-NR-75, successor to the IPS, will be provided.
---
May 2009
Servo Press 15th Year Anniversary Campaign is underway!! A special discount price has been set. The price being offered is quite attractive.
---
Apr. 2009
The IPS Servo Press Controller and Servo Press Tool SP Series became service parts in April 2009.
---
Jul. 2008
The BS/CS Series complies with European Safety Standards (CE Marking).
---
Apr. 2008
New transactions involving the IPS Servo Press will end in March 2009 as sales of the new type begin. Production is scheduled to end in Mar. 2010 Maintenance service will be provided for 7 years after production ends.
---